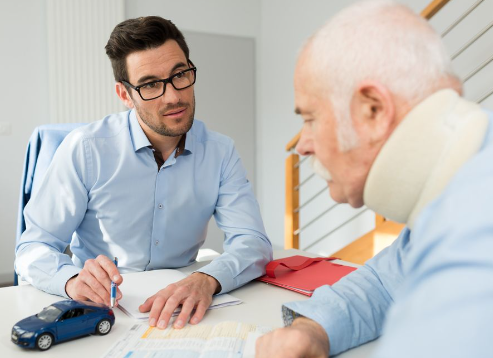 Personal injury damages can be classified as general, punitive, or special. Damages are the money that the victim of an injury can recover under the law from the person or entity responsible for the wrongdoing. Understanding the different types of damages is crucial to ensuring you get the compensation for your personal injury that you deserve.
Contact Tenina Law for More Information or to Determine the Value of Your Case.
Personal Injury Cases We Handle
What Are the Three Types of Personal Injury Damages?
In personal injury cases, compensatory damages are most commonly awarded. They are intended to compensate injured parties for their losses including medical expenses, lost wages and pain and discomfort.
General and special damages can be considered compensatory. They are meant to compensate victims for the losses they have suffered in personal injury claims. They are also referred to by the terms "non-economic," "economic," and "economic."
What are General Damages?
It is difficult to calculate general damages or non-economic damage. They are meant to compensate victims for damages that can't be quantified.
Examples of Damages Other Than Economical and General
Examples of non-economic general damages in a claim for personal injury include:
Damages for pain and suffering
Inconvenience
Emotional distress
Loss of enjoyment in life
Dismemberment or disfigurement
Mental anguish
Economic Damages and Special Damages
Damages that are easy to calculate are called special damages or economic damages. These damages are meant to compensate the victim of losses with a certain monetary value. These types of damages are the most common in personal injury claims.
Examples of Economic and Special Damages
Examples of special economic damages that can be awarded in a claim for personal injury include:
Loss of earnings and earning potential
Medical bills and expenses (past, future, and present)
Physical therapy or rehabilitation costs
Losses and expenses incurred by the injured person
Punitive Damages
Punitive damages may be awarded when extreme recklessness has caused an accident victim injury. Personal injury lawsuits are much less likely to award punitive damages than general or other damages.
Legal Information Institute (LII) states that punitive damages can be awarded in cases where the defendant has acted in a particularly harmful manner.
A judge might award punitive damage if, for example, the company was aware of risks associated with certain medications but chose to not disclose them. This could have caused harm to one or more parties. Punitive damages aim to punish the defendant, and deter others from acting in a similar way in the future.
Car Crashes
A car accident can cause a wide range of injuries, ranging from whiplash to traumatic head injury. Our team is dedicated to recovering the damages that car accident victims deserve for medical bills, lost income, and pain and discomfort.
Truck accidents with commercial vehicles
Accidents with large commercial trucks are often devastating. Truck drivers and trucking companies who do not adhere to state and federal regulations can cause serious accidents that leave victims with life-changing injury.
Motorcycle Accidents
A lack of protection on the motorcycle can lead to serious injuries. Our motorcycle accident attorneys help clients who have suffered from spinal cord injuries, broken bones and even wrongful deaths recover fair compensation.
Bicycle Accidents
When a motorist does not yield to cyclists or fails to watch the road, a bicycle accident can happen. Many cyclists suffer serious injuries such as broken bones, brain and head trauma, and road-rash. Our attorneys are able to identify all sources of compensation available for victims of bicycle accidents.
Nursing Home Neglect and Abuse
Nursing home abuse can cause serious injury to elderly residents or even result in their death. Our attorneys are committed to fighting for justice in the case of victims of nursing home abuse.
Slip and Fall
When a property owner fails to fix a dangerous condition that can cause a guest to slip or fall, it is called a slip or trip and fall. For example, a grocery store may have a crack on the floor which causes customers to stumble. Slip or trip and fall cases are part of premises liability, and can include injuries caused by negligent security, inadequate lighting, lack signage, etc.
Dog Bites
A dog bite may cause an infection, disease, scarring, or even worse. If a dog injures or bites an innocent victim, then the owner of the dog may be responsible for any damages.
Medical Malpractice
Medical malpractice occurs when a doctor does not provide the same standard of care as another doctor in a similar situation. It also includes misdiagnosis and surgical errors.
The Statute of Limitations and Personal Injury Cases
You should be aware of important deadlines if you're considering filing a lawsuit for damages for injuries that were caused by negligence. According to California Civil Practice Law and Rules CCP Section 335.1, personal injury lawsuits in California are generally limited to two years.
Statutes of limitations for Medical Malpractice & Wrongful death
CCP Section 340.5 states that a medical malpractice lawsuit must be filed within three years of the date of injury or one year of the discovery of the injury.
There are some exceptions to these deadlines
You may be able to shorten your time limit if you sue a municipality. You will not be able to sue for compensation if you don't file your claim before the statute of limitation expires. Contact a personal injuries attorney to begin your case.
Tenina Law, are committed to helping accident victims recover damages. We have the expertise in personal injury law to help you bring your case to court and maximize your compensation. We will thoroughly review your case and provide you with sound legal advice. Negotiate on your behalf with the insurance company, and aggressively pursue any damages that are available.
Call us today to receive a free evaluation of your case. We will help you achieve the results you deserve from your personal injury lawsuit.