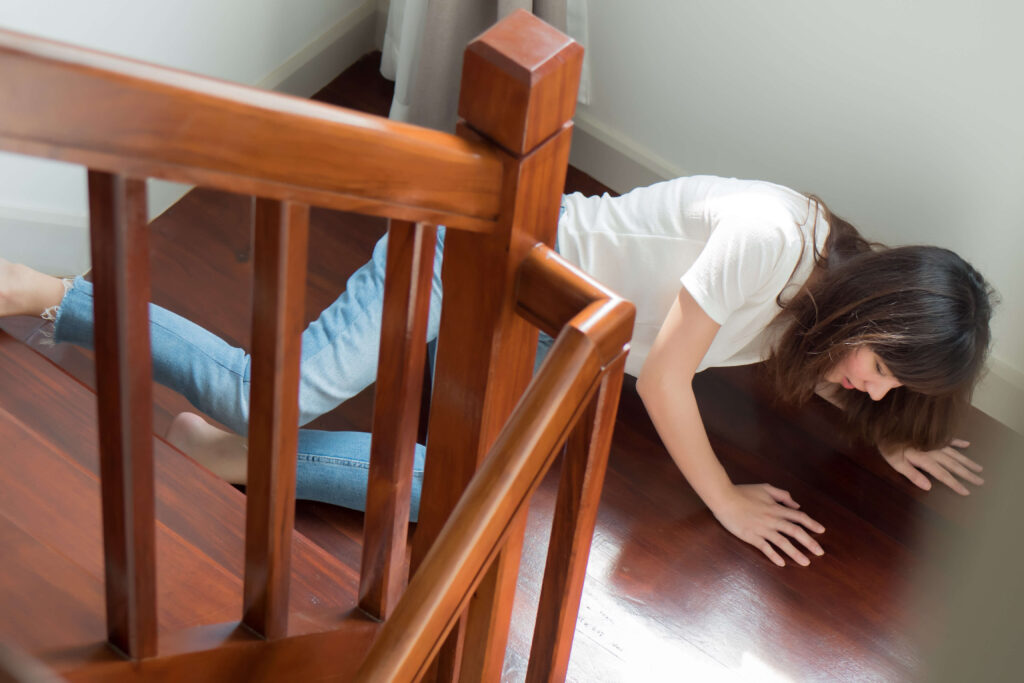 Imagine coming home from a hard day of work, eagerly anticipating a moment of relaxation. However, your anticipation is abruptly shattered when you experience a slip and fall due to landlord negligence, right outside your door. It becomes apparent that you inadvertently stumbled upon the raised crack in your flooring that your neighbor had requested your landlord to repair several weeks ago.
Faced with this unfortunate situation caused by your landlord's negligence, you find yourself wondering how to address your injuries. Dealing with intense pain, as well as potential memory or concentration issues, is undoubtedly challenging.
If you find yourself in such a predicament, Tenina Law is here to assist you. We specialize in cases where individuals have suffered injuries due to slip and fall incidents in Orange County, California. With a team of highly skilled personal injury lawyers, we possess extensive experience in handling similar cases.
Our clients place their trust in us because we relentlessly strive to achieve exceptional outcomes. We have access to a wide range of proven strategies and resources, all geared towards bolstering your claim and obtaining the justice you deserve.
Can You Sue Your Landlord for a Slip and Fall on Their Property?
You might be able to sue your landlord if you slip and fall. You may be entitled to compensation if you fell due to the negligence or intentional actions of your landlord. If your landlord knows about a dangerous situation on the property, or if a reasonable period of time has passed since the danger was discovered, they are likely responsible for failing to address the problem.
To get more information, we recommend that you speak with an Orange County slip and fall attorney. In some cases, the defendant may use a number of factors against you, including the fact that you were expected to prevent the accident, caused the incident, or you may be responsible for fixing the problem. An attorney will be able to inform you about the legalities of your situation and represent you at the appropriate time.
What Compensation Can I Receive for a Slip and Fall?
After experiencing a slip and fall injury, you are likely eligible for compensation. You may be entitled to compensation if your fall was a result of someone else's negligence or deliberate actions.
Medical bills

Ambulance charges
Emergency room or hospitalization costs
Physical therapy charges
Future medical payments

Lost wages
Loss of earning potential
Property damage
Wrongful death
Pain and suffering
Emotional distress
Scarring and disfigurement
Loss of companionship or consortium
Legal fees
We recommend that you speak with an Orange County personal injury lawyer if you need help determining the damages for which your claim is eligible. Your lawyer will be able to determine the value of your case and maximize the compensation that you can receive. This allows you to concentrate on recovering.
Can a Slip and Fall Attorney Help Your Case?
We recommend that you consult a lawyer if you plan to file a lawsuit and want to be compensated adequately for your injuries. You can get help from your lawyer in many ways during the legal process.
Legal knowledge and suggestions
Negotiation
Speak for yourself
Completing and filing the required paperwork
Keep appointments and schedules
Refer you to medical specialists
Provide you with useful information and resources
Reduce your stress levels
Value your case
Investigate or take the lead
Evidence collection and assessment
Make strong arguments for your position
Reduce your fault
Think about the strategies you will use and what your next steps are
Maximize your compensation potential
Self-representation may seem appealing but there are significant risks of misrepresentation and the loss of compensation. As soon as you can, we recommend speaking to an Orange County personal injury attorney for help. A lawyer with experience is more likely to get you the compensation that you deserve.
Slip and Fall in California? Contact Tenina Law to Get the Help You Need
Get legal help for slip and fall due to landlord negligence. Tenina Law fights for your rights and rightful compensation. Our dedicated team possesses an exceptional track record of successfully assisting numerous clients in obtaining the rightful compensation they deserve. By choosing our expert legal representation, you open the door to a myriad of benefits.
Don't let the burden of your injury weigh you down any longer. Our skilled attorney are ready to fight for your rights and ensure that justice is served. Time is of the essence, so don't hesitate to contact us without delay. By taking swift action, you increase your chances of a favorable outcome and receiving the compensation you need to recover from your ordeal.
At Tenina Law, we understand the physical, emotional, and financial toll that a slip and fall incident can have on your life. Our compassionate team is here to provide you with the support and guidance you need during this challenging time. By entrusting us with your case, you can rest assured that we will work tirelessly to protect your interests and secure the maximum compensation possible.
Contacting us is simple and hassle-free. You can either fill out the convenient form provided or give us a call at (213) 596-0265. We eagerly await the opportunity to hear more about your unique situation and offer our expert legal advice. Don't let the opportunity slip away – take the first step towards justice and compensation by reaching out to us today.
Other Services We Offer