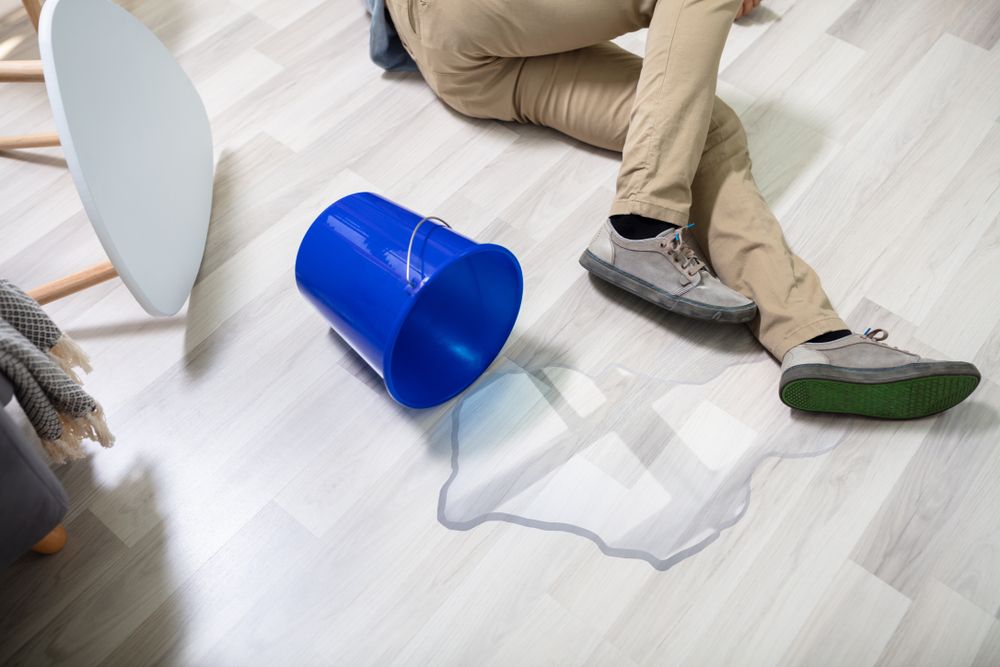 Slip and fall accidents can occur in various places such as homes, friend's houses, retail stores, sidewalks, or apartment pathways, among others. Negligence is often the cause of such accidents. But who is liable for a slip and fall? It all depends on the location and type of property. Generally, property owners are responsible, but there may be situations where another individual is liable for the injuries sustained from a slip and fall accident.
In a Retail Establishment
There are many things that could cause you to slip and fall in a retail store. Retail establishments can be prone to debris in the aisles, in the corner of a pallet, or on wet floors. Managers and other employees must be alerted to dangerous conditions such as wet floors or entryways that have been contaminated with snow, rain, or slush.
But, just because there is a sign does not mean you can't sue the retailer for damages. After an accident, contact a slip and fall lawyer to determine if you have a case.
People who could be held responsible in a retail store are:
The owner
The lessor
The lessee
In certain situations, the store manager
At a Friend's Home
You may have tripped on a non-standard step, or the edge of a carpet that has been lifted by heavy traffic. If you fall and hit your head, or hit something on your way to the floor, you could inflict injuries.
Your friend may be liable for your injuries. However, you'll most likely settle with the homeowner's policy of your friend.
A Public Walkway or Road
Even if the municipality doesn't maintain them, public walkways can present hazards. Slipping on cracked or uneven walkways can lead to injury. Slipping on walkways that aren't cleared of snow and ice could result.
The rules are different in every municipality. This means that the following individuals could be liable for any injuries sustained on icy or snowy walkways.
The municipality
The property owner
A lessor or lessee for a building or unit
Some cities require that residents maintain public walkways at their residences. If a person is disabled and cannot clean the walkway during the day or works long hours, who is liable for a slip and fall? A skilled slip and fall attorney can investigate your case and determine who you should sue.
The municipality is usually liable for injuries if a walkway is unsafe or in disrepair.
At Your Home
Even in your own home, you could trip, slip or fall. But who is responsible? Did you cause the accident? Was it a defect in your home that you didn't know about? You may file an injury claim against homeowner's insurance depending on the reason you fell or tripped.
A Private Walkway
If the walkway isn't maintained well or cleared of snow and ice, private walkways can also be a source of injury.
Depending on the state law, multiple people may be liable for your injuries.
The property owner
A lessor or lessee
Another resident
A slip and fall lawyer can review your case and look at local laws to determine who is responsible for your injuries.
Trip, Slip, and Fall Injuries
Although slip and fall injuries can cause minor bumps, bruises, and cuts, serious and even fatal injuries could result.
Traumatic brain injury
Back and spinal cord injuries
Eye and face injuries
Injuries to the head, neck, or shoulder
Both simple and complex fractures
Strains
Torn or pulled muscles, and soft tissue injuries
Internal injuries
Many factors can affect your injuries, including whether or not you strike something while on the ground. Items with sharp corners are more likely to cause injury than those with rounded corners. A metal shelf, for example, will cause more damage than a wooden coffee table's rounded edges.
Recovery of Damages Following a Slip and Fall Accident
The extent of your injuries will determine the amount of damages you can recover from tripping, slipping, or falling. Minor injuries may only result in economic damages. People who sustain severe or catastrophic injuries that take more than a year to heal, or cause long-term or permanent disability often receive non-economic damages.
These are compensatory damages that the court orders to make you whole. You will need to keep all bills and invoices related to the fall. These include medical expenses, prescription expenses, and costs incurred for ambulatory aids or other medical equipment. You can also document your lost wages to recover wages from the time you were away from work.
Imagine that your injuries are catastrophic or severe and leave you with long-term disabilities. You could be eligible for compensation for pain and suffering, loss in quality of life, loss of consortium, loss of function or body part, and other damages.
You might need to notify your insurance company about your slip and fall accident. However, it is better to have an attorney handle that task. In order to deny or reduce your claim, insurance companies may twist the words you speak. They use other tricks to avoid paying claims. An attorney knows the tricks so an attorney can file your claim.
In the event that you have suffered injuries or lost someone in a slip and fall accident or trip, please contact a slip & fall lawyer immediately for a no-obligation case evaluation.
Get in Touch With Our Slip and Fall Lawyers Today
If you've been injured in a slip and fall accident in California, don't wait to take action. Contact Tenina Law today and let us help you understand your rights and options under California law. Our experienced attorney are here to fight for your compensation and help you get the justice you deserve. Call us now to schedule a consultation.
Other Services We Offer