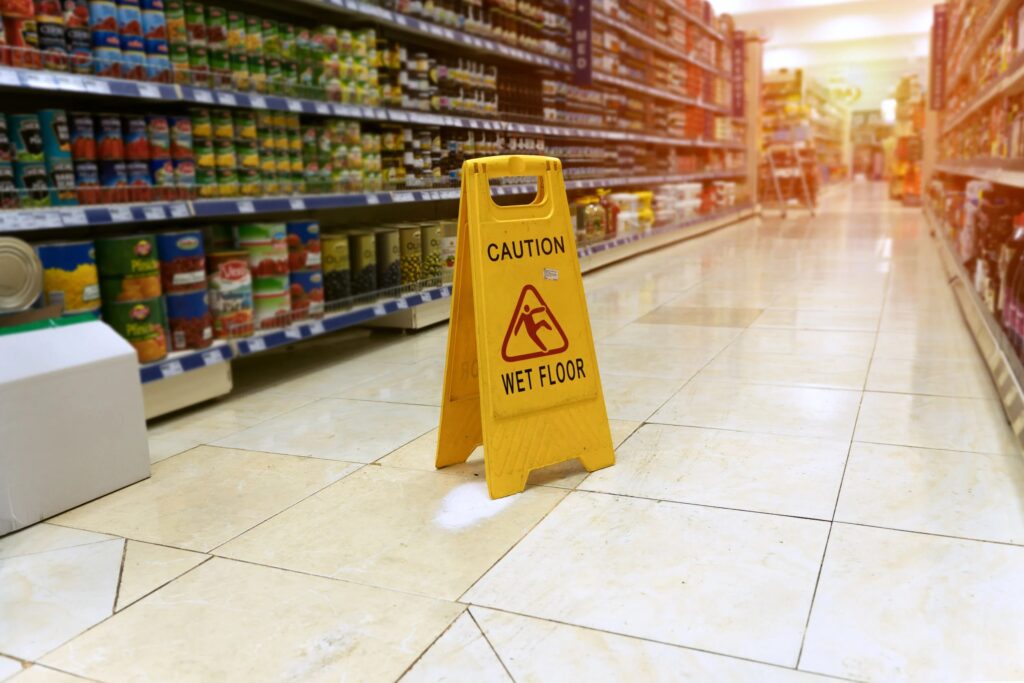 A slip and fall is a form of California premises liability accident. Not all falls can lead to slip and fall liability. To be able to recover damages, you must prove that the accident was caused by negligence. If you or someone you love has suffered from a slip and fall accident, it is important to seek immediate legal help from an experienced slip and fall attorney in California.
Common Causes for Slip and Fall Liability in California
Spills
Leakage in the plumbing
Loose carpeting
Uneven floors
Uncovered cables and cords
Broken or missing railings
Broken furniture
Failure to rope off construction sites
Failure to warn about known hazards
Our California personal injury attorneys will help you understand how to get damages for slip and fall accidents.
1. Who Is Responsible for a Slip and Fall in California?
California has a duty to care for people who come onto their property. This applies to those who possess, lease, occupy, or control the property.
Additionally, there may be insurance and parent businesses that are liable for damages to slip and fall victims in California.
2. What Evidence Do I Need in Order to Claim Damages?
A plaintiff must prove four things in order to claim damages from a slip and fall accident in California.
The property was owned, leased, occupied, or controlled by the defendant
The defendant was negligent with the maintenance or use of the property
The plaintiff was harmed by falling or slipping on the property
The plaintiff suffered harm because of the defendant's negligence.
3. Is a Property Owner or an Occupant Negligent?
A plaintiff must show that the defendant was negligent to recover from a slip and fall.
In California, a defendant is negligent in the maintenance or use of his property if:
Unreasonable harm was caused by a condition placed on the property
The defendant had knowledge or should have known about it, under reasonable care
The defendant did not repair or protect the condition from harm, nor gave adequate warning
A grocery store that doesn't post "Caution: Wet Floor" signs after cleaning the floor is an example of negligence. This is because a slippery floor can be dangerous.
4. What Are the Damages of a Slip and Fall Accident?
In general, plaintiffs have the right to all compensatory damages resulting from the negligence of a defendant.
Compensation damages for slip and fall claims may include, but are not limited to:
Medical bills for medical treatment, home health, rehab, and other related services.
Loss wages
Loss of earning capacity
Pain and suffering
A plaintiff may be entitled to punitive damage in slip and fall cases. Tenina Law's slip and fall attorney in California can help you with this.
Examples of situations where punitive damages might be recoverable for a slip or fall include:
The negligence of the defendant resulted in severe injuries or wrongful deaths.
Intentionally, the defendant destroyed evidence of liability.
5. What Is the Statute of Limitations for a Slip and Fall Claim?
The statute of limitations for bringing a slip and fall personal injury case in California is usually two years from the date of the accident.
However, in some cases, the statute may be " tolled" (suspended) — this could happen if the defendant is not within the state for a certain amount of time or the injured person under 18 is outside the state.
A California accident lawyer will be able to advise you about how long you can sue after an accident depending on your particular case.
6. How Can I Prove That the Accident Was Caused by the Defendant?
Proving that the defendant was negligent is key to winning a slip and fall personal injury claim in California. These are examples of evidence:
The slip and the fall doctor's treatments notes
Video footage
Witness statements
Accident reconstruction experts' testimony
Tenina Law has the top slip and fall attorney in San Fernando Valley, California. We can help you get the compensation that you deserve and need!
Are You Injured in a Slip and Fall Accident in California? For Assistance, Call Tenina Law
If you've been injured in a slip and fall accident, it's important to take action quickly to ensure that your rights are protected. The team at Tenina Law is here to help, and we'll make the process as simple and stress-free as possible.
Don't let your dignity slip away; call our team today for assistance for a free consultation on your slip and fall case to see how we can help or visit our website at https://www.teninalaw.com/ to learn more about our personal injury firm in California.