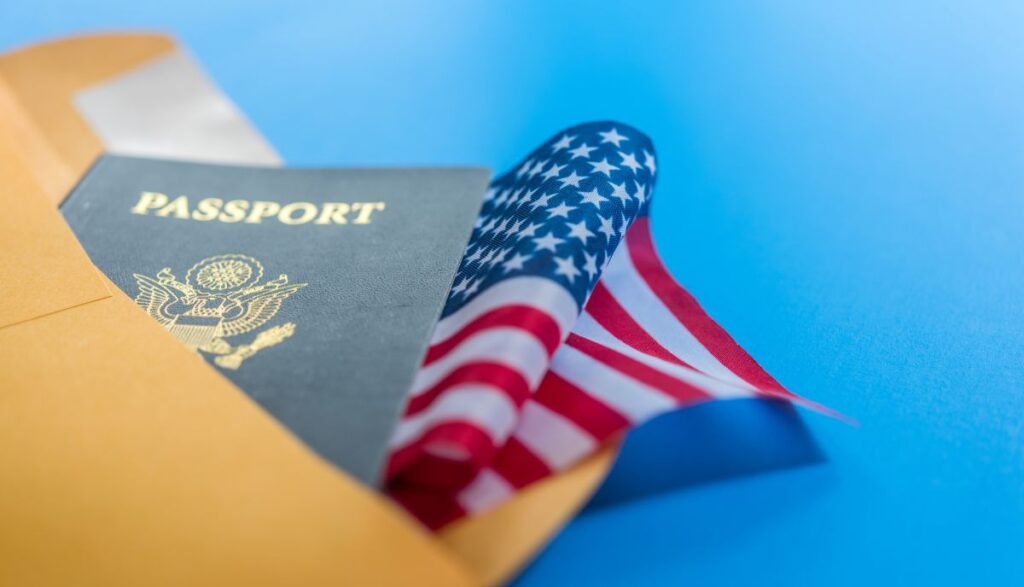 Will bankruptcy affect my citizenship application? Financial difficulties can be stressful enough. You may believe that you don't have the option to pay off overwhelming debt if you are not a U.S. citizen. The truth is, bankruptcy is an option for anyone who resides in the United States.
Citizens and non-citizens are both affected by the credit systems and credit bureaus of the United States. You may be afraid that filing bankruptcy could lead to your deportation or that the U.S. government might deny your application for immigration. This is not true. Your green card or visa will not be denied if you file for bankruptcy. You will not lose your resident status.
The U.S. Citizenship and Immigration Services (USCIS), and the Department of Homeland Security(DHS) do not consider bankruptcy cases in determining residency. This article will discuss some important factors for immigrants who are considering bankruptcy.
You Don't Have to Be a U.S. Citizen to File for Bankruptcy
Your immigration status won't be affected by filing for bankruptcy. Federal law doesn't require you to be a citizen to file for bankruptcy. It doesn't matter if you are an immigrant. To file for bankruptcy, however, you will need a Social Security Number or ITIN (Individual Tax Identification Number).
U.S. citizens, permanent and temporary residents may be issued Social Security Numbers (SSNs). An SSN can be used to file for bankruptcy, but it is not necessary. A personal identification number, such as an ITIN, is the minimum requirement. Many immigrants do not have a Social Security Number, but they have an ITIN which is routinely issued for non-citizens.
Personal Identification Numbers
The federal government uses many different personal ID numbers. The ITIN is used by individuals. However, numbers are used for businesses like the TIN (Tax Identification Number) and EIN (Employer identification number).
Here's a quick overview of the identification numbers that are used by the Internal Revenue Service (IRS), for tax purposes.
SSN: This number is for natural-born, foreign-born, and naturalized citizens.
ITIN: This nine-digit number is used by the IRS to identify individuals for tax purposes. Individuals who are not eligible for SSNs but need an identification number from the IRS can be assigned ITINs.
EIN: This nine-digit number is used by the IRS for identifying business entities such as a corporation or LLCs.
TIN (Tax Identification Number) This number is also used for businesses by the IRS. An EIN is different from a TIN because the IRS assigns TINs only to employees-only companies.
In summary, you can file bankruptcy using your Social Security Number or ITIN to identify you individually and your EIN/TIN to identify your company.
What Will a Bankruptcy File Have On My Immigration Status?
In most cases, bankruptcy filings won't impact your ability to stay in the United States. This will not affect your U.S. citizenship application or your application to apply for a visa/green card. The bankruptcy forms do not inquire about an applicant's immigration status.
Filing bankruptcy can be more difficult if you have recently moved. You might need to prove your residency in order to file for bankruptcy. You must have lived in the new state for at least 91 days of the last 180 days. To meet this requirement, you don't need to submit USCIS documentation. You might have to delay filing until you reach this 91-day threshold.
What Does 'Good Moral Character' Mean?
Any foreign national must be able to become a citizen of the United States or a lawful permanent resident. Any USCIS officer will be more concerned about your ability to pay taxes than financial status, if applicable.
Anyone who files for bankruptcy is not considered a public offender under federal immigration law. This is significant because the USCIS can deny visas to anyone who could become a public charge. This person usually receives food stamps or some other public benefit.
You must sign all documents under penalty for perjury when you file bankruptcy. You are required to attest that all statements and schedules regarding bankruptcy are true and accurate. Perjury can result in fines, imprisonment, or both. Intentionally omitting assets from your bankruptcy petition or schedules is a violation of federal law. This can compromise your current and future citizenship status.
You must file bankruptcy in good faith if you are applying for citizenship, visa, or green card before you can receive these benefits. A bad faith filing could be defined as bankruptcy fraud committed by someone who has accumulated a substantial amount of debt before filing or uses bankruptcy to avoid the payment of alimony and child maintenance. U.S. Citizenship and Immigration Services would most likely consider this evidence of morally corrupt character.
Will It Not Look Bad if I File for Bankruptcy?
The law gives you the right to file for bankruptcy. Bankruptcy laws are designed to assist those who have difficulty repaying their debts. Although banks and credit card companies may try to convince you that bankruptcy is wrong, it is not a sin to have debt in the United States.
The USCIS takes into account the applicant's moral character when deciding whether to grant a U.S. citizenship application. The USCIS does not consider bankruptcy or having a debt to be a negative characteristic, despite the stigma around it.
However, bankruptcy is not for everyone. Chapter 7 is a choice. You will need to evaluate your financial situation and goals to determine if it is the right decision for you.
If I Am an Undocumented Immigrant, Can I File for Bankruptcy?
Filing a bankruptcy petition is the first step in a bankruptcy case. This requires specific information. Your citizenship status will not be required on the petition. You can file for bankruptcy even though you are an undocumented immigrant.
However, you may have problems if your wrongfully obtained Social Security Number or ITIN is used in bankruptcy proceedings. By filing bankruptcy with an incorrectly obtained ID number, you are basically admitting that you have a fake SSN/ITIN. You may have problems if the trustee assigned to your case reviews tax returns. If this is an issue, you should speak to an immigration lawyer and/or consult a bankruptcy attorney. Many attorney are available for free consultations and can offer legal advice on bankruptcy and other options.
Before filing for bankruptcy, you might also want to consider other debt-relief options. Another form of debt relief may be the best option depending on your circumstances. You can either negotiate with your creditors, or you can use a credit counseling agency to represent your interests. Numerous credit counseling agencies are non-profit and offer free advice.
A debt settlement or a consolidation are two options to help you get rid of your debts. Sometimes a creditor or debt collector will accept a partial payment in lieu of the entire amount to settle the debt.
Let's Summarize…
If you do not file for bankruptcy, it won't affect your U.S. citizenship application. When considering a person for citizenship, green cards, or visas, the USCIS is more concerned about moral character than their indebtedness. To file for bankruptcy, one does not need to be a citizen. All you need is a legal, government-issued personal ID number such as an SSN or ITIN.
Need Help With Your Bankruptcy Filing?
Are you an immigrant facing debt problems? Filing for bankruptcy may be the solution. But as an immigrant, navigating the bankruptcy process can seem complex and intimidating. That's where Tenina Law comes in. We understand the unique difficulties that immigrants face when it comes to filing for bankruptcy, so we are here to guide you through it and guarantee your rights are upheld.
Our experienced bankruptcy lawyers possess a comprehensive understanding of bankruptcy laws and regulations that pertain to immigrants. Tenina Law will work with you to identify the best course of action for your individual circumstances, providing expert guidance and support throughout each step.
Other Services We Offer
Don't let fear of the unknown stop you from taking control of your financial future. Contact us now to arrange a consultation and get the fresh start that you deserve. With our experience and dedication, you can rest assured that your case is in excellent hands.