Compassionate Representation, Maximum Compensation
With over 20 years of experience and a 98% success rate, our lawyers have helped thousands of California residents and won millions of compensation. If you suffer from an injury, contact us now!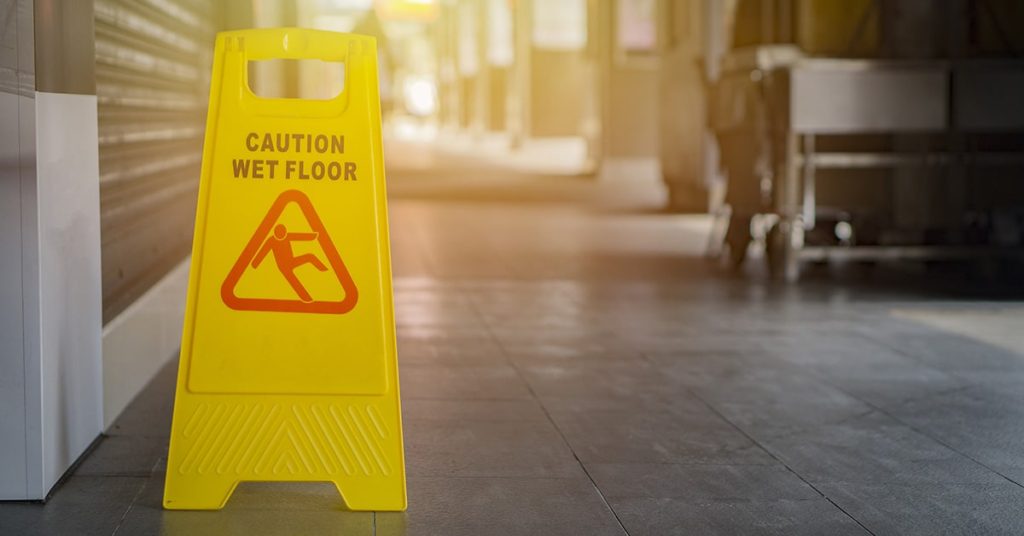 Slip and fall accidents are the most frequent type of personal injury cases in Orange County. Slips and falls occur very often and an Orange County slip and fall lawyer are called to handle a wide range of cases. These can occur at work, in a shopping center, or even in a city parking garage. Many times, falls are caused due to poorly maintained floors or premises. You may need to hire a personal injury attorney to assist you in filing a claim against the property owners. A skilled Orange County slip and fall attorney can help you get the compensation you need.
Not all falls lead to a lawsuit. It could be that you are the only one feeling it. It could be that you are wearing the wrong shoes. You could also be walking erratically or drunk. These things are not to be attributed to the property owner. You won't be able to convince an insurance company or jury that your shoes caused your fall, even if the property or floor was unsafe.
If you do fall, and it is entirely your fault, you may be able to file a claim for serious damages. A slip and fall lawyer in Orange County can help you determine how strong your case is. They will review your case and help you determine its value of it. They can also help you determine whether your injuries are worthy of compensation.
Slip and Fall Statistics
The number of fatalities resulting from falls is almost evenly split between men and women. However, women are more prone to experiencing slip and fall accidents. According to the Bureau of Labor Statistics (BLS), falls account for 5% of all fatal job-related accidents for women, compared to 11% for men.
Falls lead to over 8 million emergency room visits, making it the most common cause (21.3%) of such visits. Additionally, slips and falls result in over 1 million hospital visits, accounting for 12% of all falls.
Among the consequences of falls, fractures are the most serious, occurring in 5% of all fall cases. Slip and fall incidents are the primary cause of workers' compensation claims and are also the most frequent cause of occupational injuries for individuals over 55 years of age.
For individuals aged 65 and older, falling is the primary cause of brain and spinal cord injuries. Furthermore, hip fractures are 15 times more prevalent in those over 85 years old compared to those aged 60-65.
According to the National Safety Council Injury Facts, 2003 edition, the annual cost associated with compensation and medical expenses for slip and fall injuries to employees amounts to approximately $70 billion.
In 1995, falls accounted for 20.8% of emergency room visits, making it the leading cause of accidents. Motor vehicle accidents accounted for 11.9% of ER visits.
Disabling workplace injuries caused by falls, whether temporary or permanent, come at a cost ranging from $250,000 to $300,000.
Approximately 40% of compensable falls and 10% of occupational fatalities occur as a result of falls from heights.
Injuries Suffered in an Orange County Slip-And-Fall Accident
Accidents involving slip-and-fall incidents can result in a range of injuries, varying from minor bruises to severe conditions like brain or spinal cord injuries. While a fall can be embarrassing, even a seemingly minor slip can lead to muscle strains or ligament sprains.
In more serious cases, victims may suffer fractures in the hip, wrist, or ankle. How individuals fall can also result in significant neck and back injuries.
To mitigate these types of severe injuries, property owners and managers in Orange County must take necessary precautions and ensure the safety of their premises for tenants, guests, and visitors.
Preventing Slip-And-Fall Accidents
By using common sense, such as being vigilant and wearing sensible footwear, you can reduce the chances of experiencing a slip-and-fall accident. However, accidents can still happen regardless of how careful you are. There may be hazards on your property that you are unaware of.
Orange County property owners who regularly inspect their premises for potential dangers can help prevent accidents. Installing sufficient lighting will improve visibility, and placing welcome mats at all entrances will help keep the walkways dry.
Property owners must also monitor high-risk areas and address any complaints that have been received. Property owners must provide warnings in areas that may pose a risk if hazardous conditions are not promptly addressed. Examples of such hazards include liquid spills, cracked steps, and broken walkways.
Failure to adhere to these regulations constitutes negligence and can result in serious injuries. Businesses that fail to comply may face penalties imposed by the county.
What to Do After a Slip or Trip and Fall Accident
Take a moment to collect yourself after a fall and assess if you have any injuries. If you feel injured, do not attempt to move. Instead, call 911 to have emergency personnel evaluate your injuries. Additionally, inform the manager or owner of the property about the incident.
Request that they file an accident report and inform them of your intention to seek medical treatment for your injuries. Before heading to the hospital, take photos of the location where you fell and the hazardous conditions that contributed to the accident. Capture a wide-angle shot to clearly show if there are any warning signs, cones, or caution tape in the area.
It is also beneficial to gather the contact information of any witnesses. Write down as many details as possible to ensure important information is not forgotten.
Legal Rights of Orange County Injury Victims
In Orange County, all property owners have a legal obligation to provide a reasonably safe environment for their guests, tenants, and visitors. It is their responsibility to ensure the safety of their property and assess the need for any necessary repairs.
Warning signs must be displayed to alert visitors when a hazardous situation cannot be promptly addressed. Orange County property owners who fail to fulfill their legal obligations may be held accountable for their negligence.
If you are injured due to a hazardous condition that the property owner should have been aware of but failed to address, you have the right to file a claim. The court will determine liability and assess whether your negligence contributed to the accident.
An Experienced Slip And Fall lawyer Will Help You Get The Compensation You Deserve
If you are hurt in a slip-and-fall accident, the first thing you should do is seek medical attention immediately. Contacting a slip-and-fall lawyer is the second thing you should do. Your slip and fall lawyer in Orange County must prove that the property owner was negligent in order to win your slip-and-fall claim.
You won't be able to prove any of the four elements if you don't have all four. The defendant's insurer handles most slip and fall cases. The insurance company will negotiate with your Orange County slip-and-fall lawyer. The insurance company might still offer to settle if your case falls short on any of these aspects. It is much easier to settle an insurance case than to go to court.
Comparative Negligence: How a Slip and Fall Attorney in Orange County CA Deals
Sometimes, a slip-and-fall is partially your fault. This type of situation is covered by most states. The best personal injury lawyer in Orange County would familiar with California's laws regarding this topic. California follows the relative negligence rule. Slip and fall claims are still possible as long as you are more at fault than the defendant. You may still be able to claim negligence if you are less than half at fault. Your claim may still be valid even if it isn't, but you won't get the same amount if you aren't at fault. Your percentage of fault will affect the amount you receive as a settlement award or judgment.
An Orange County Slip and Falls Lawyer Will Prove Your Damages
If you don't have any immediate injuries, this doesn't mean you are not liable. An experienced Orange County slip-and-fall lawyer can prove your damages. He will need to have access to your medical records in order for this to be possible. It is important to seek medical attention after a slip-and-fall. Your slip and fall attorney in Orange County CA won't be able to prove that you were injured if you don't seek treatment. Even if you wait for treatment, your lawyer may argue that your injuries occurred between the accident and the visit of your doctor.
The hospital staff will perform the necessary tests to determine if you are injured. To determine the extent of your injuries, they will perform MRIs, CT scans, and x-rays. These tests are used by Orange County slip-and-fall lawyers to prove how severely you were hurt. This information is your evidence against the defendants. To prove injuries, a slip-and-fall lawyer will not rely solely on the word of his client. The following damages will be demanded by your slip and fall lawyer in Orange County:
Medical Bills
Your Orange County slip-and-fall lawyer will demand payment for all medical bills. This covers all future, present, and past medical bills. Lawyers can use medical testimony to show that future medical bills will be incurred for your injuries.
Loss of Work
Even if your injuries are minor, it is likely that you will still miss work. To prove your claim, your Orange County slip-and-fall lawyer will present you with time cards and pay stubs. You should be compensated, even if you were paid vacation or sick time. You would still have the time if it wasn't for the accident.
Future Earnings
You may be unable to work again if your fall is severe enough. You could end up with a temporary or permanent disability. Also, you may be able to work, but not in the exact same job that you did before. Your Orange County slip lawyer will seek compensation if you lose future earnings due to the fall.
Both Pain and Suffering
California law protects you against pain and suffering. An Orange County slip and fall Lawyer can ask for payment for your pain or suffering. If you want to win your case, make sure you keep in touch with your Personal injury lawyer in Orange County CA. You are relying on him for much of this information. Your slip and fall lawyer will have a hard time negotiating a fair settlement if you don't answer his calls or show up for the appointments.
How Does Your Slip And Fall Attorney in Orange County CA Prove Pain And Suffering?
Slip and fall victims are often entitled to pain and suffering. These damages must be proven by your slip and fall attorney in Orange County CA. They are difficult to prove because pain and suffering are not economic damages. It is impossible to quantify the pain you feel. This is a subjective matter. However, if your loved one was involved in a slip-and-fall that resulted in their death, you might need a wrongful death attorney. This is a personal injury lawyer who is familiar with wrongful deaths.
Your slip and fall lawyer will help the court and the insurance company to prove your suffering and pain.
When determining the severity of your pain and suffering, the court will consider:
The extent of the initial injury
Your type of injury
Long-term effects
How much were your economic losses (bills and lost wages)?
How will your injuries affect your family?
Your slip and fall lawyer is responsible for proving your pain and suffering. Your family members and friends may be called upon to testify about your pain. He might need to bring in medical experts to examine the long-term effects. Your therapist may be able to provide evidence that you have been depressed since the accident. These are all factors that should be considered when proving suffering and pain.
Fair Compensation for a Slip and Fall in Orange County
You may be eligible for financial compensation if you sustain injuries in a slip-and-fall accident. Depending on the circumstances, you could receive compensation for medical expenses, lost wages, and potential loss of future earning capacity if your injuries prevent you from working.
In California, victims may also be entitled to compensation for non-economic damages, including mental and physical anguish. It's important to retain all receipts and document any losses stemming from your slip-and-fall injury in Orange County.
Tenina Law's skilled Orange County premises liability attorney have successfully assisted numerous seriously injured victims. We are dedicated to holding those responsible accountable for the damages, injuries, and losses you have endured. Our fees are contingent, meaning you won't be charged unless we secure compensation for you.
For a confidential and complimentary consultation, please contact us at 949-203-3814. Brian Chase will personally explain the potential value of your case.
Determining Liability for a Slip-And-Fall Accident
Property owners often claim they didn't know their property was unsafe.
You may need to examine recent complaints received by property management regarding safety and the duration of hazardous conditions on the premises.
A victim must establish the following to hold a property owner responsible for an accident:
The property owner or employee was likely responsible for the hazardous condition which led to the fall.
The owner or employee of the property must have been aware of the hazardous condition.
The owner or manager of the property did not do anything to correct the hazardous conditions on the premises.
The owner or manager of the property did not warn guests and visitors about this dangerous condition.
Get in Touch With a Slip And Fall Lawyer Today
Call a slip and fall attorney in Orange County if you or someone you love has been injured in a slip-and-fall accident. You will need to file a claim against the defendant's insurer. If everything went according to plan, the claim would be paid immediately. It rarely happens this way. There are likely to be problems with your claim. An attorney who specializes in slip and fall will help you negotiate with your insurance company.
You should bring the following to your first meeting with your slip-and-fall attorney:
Copie of incident or accident report
Contact information for eyewitnesses
Photos of the accident scene
Photos of your injuries
If possible, medical records
Recipient of medical bills
Correspondence between the defendant, his attorney, and his insurance company
This information will be used by slip and fall lawyers to evaluate your case. Once they have fully understood your case, they will be able to give you an estimate of the value of your case. It's not the job of your slip and fall lawyer to make you wealthy. His job is to make you whole. No matter what you think, you will not make millions from your lawsuit.
Your slip and fall attorney in Orange County CA will fight for you to receive the compensation you are entitled to. They will negotiate with your insurance company to obtain a fair settlement. Contact an Orange County slip and fall Lawyer today if you have been injured in a slip-and-fall accident. No-cost initial consultation. This allows you to ask any questions that you might have. You can also ask your slip and fall attorney in Orange County to review your case. You don't have to pay anything unless you settle your case.
Contact the Best Personal Injury Lawyer in Orange County California
Tenina Law Inc has top-rated personal injury lawyers representing clients against insurance companies. We use proven methods to ensure that they are successful. Our clients enjoy successful results when we prosecute medical, on-the-job, and accident injury cases. Hire our personal injury law firm to help you succeed in your case. Contact us today for more information.
Other Services We Offer